LawSchoolAids.com

Making numerous checklists (facts, holdings, rules, case names, course topic headings) is the key to doing well on law school essay and multiple choice exams.

Having one big outline makes it hard to quickly and efficiently see the key differences between the cases and topics covered in your courses and make the associations necessary to apply what you've learned to novel fact patterns on final exams.


Law School Notes and Outlining Program utilizes

cutting edge

technology to automatically create completely customized outlines for all your law courses ! Save precious time by using this briefing, notetaking and outlining program to effortlessly create case lists, holding lists, fact lists or any and all kind of lists and outlines you could possibly want with any combination of information you desire for your courses all customized exactly the way you want them ! All outlines are saved conveniently as MS Word Documents. Unlike expensive outliners designed by other legal software companies which make creating customized outlines cumbersome and time consuming, our outliner has a simple, easy to use interface that makes creating outlines a snap at a very economical price for law students. Our Law School Notetaking and Outlining Program is best and last law school outlining and notetaking program you will ever need !

*BUY NOW !



Here's how it works, in just 4 easy steps :





Step 1

: Type or paste in the relevant information for each case in your course such as the case name, facts, holding, rule, heading, and page number.
The outliner even has special fields for your own notes and class notes ! Use the previous and next buttons to move back and forth between cases.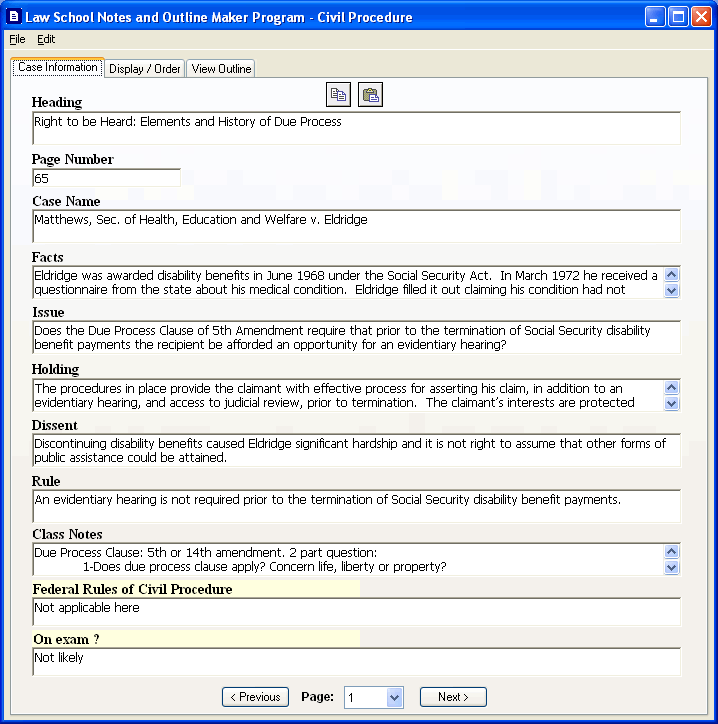 *The last two fields are fully customizable, here the student labeled the fields "Federal Rules of Civil Procedure" and "On Exam ?" for her




civil procedure course but you can label them anything you like ! Your settings are automatically saved for each course file.





Step 2

: When you're ready to create an outline, use the Display/Order Tab to select exactly what information fields and headings you would like in the outline.
Once you've selected what information to appear in the outline, use the font button to easily select exactly what font, size and color
you would like for each field and heading, simply drag and drop to order the headings and fields as you like them, and use the indent and merge buttons to position each field and heading exactly as you would them to appear in the outline. (These settings are automatically saved for each of your files.)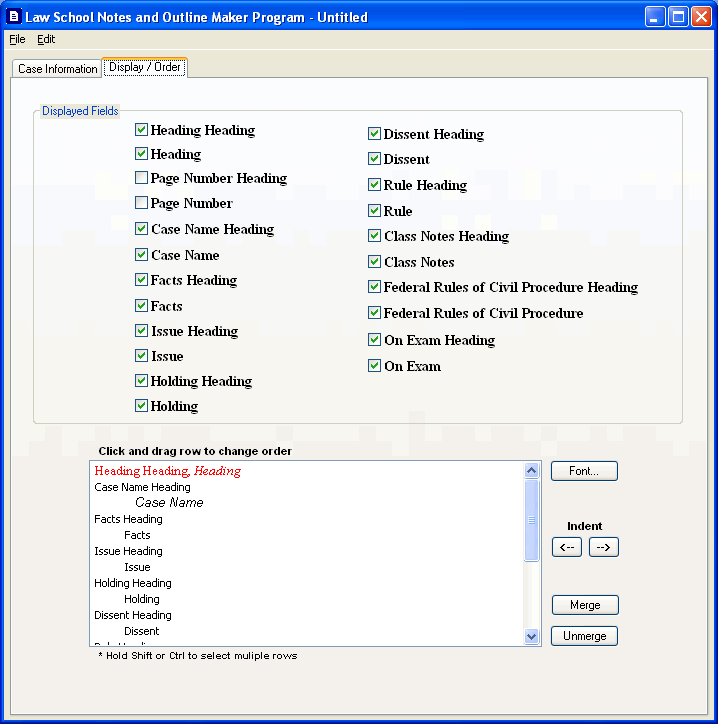 Step 3

: Select "Export to Word" from the File menu, name the outline file and instantly your MS Word outline is created. Done !


SAMPLE OUTLINE OUTPUT :

Heading : Right to be Heard: Elements and History of Due Process

Case Name :

Matthews, Sec. of Health, Education and Welfare v. Eldridge

Facts :

Eldridge was awarded disability benefits in June 1968 under the Social Security Act. In March 1972 he received a questionnaire from the state about his medical condition. Eldridge filled it out claiming his condition had not improved and included info from physicians. The state got reports from his physician and psychiatrist. The state sent him a letter stating a tentative determination was made that his disability ended in May 1972. The letter stated reasons for proposed termination and advised him he could submit additional info to the state within a reasonable time. He disputed the termination by letter but the final termination of his benefits was in May 1972. He challenged the constitutionality of the administrative procedures.

Issue :

Does the Due Process Clause of 5th Amendment require that prior to the termination of Social Security disability benefit payments the recipient be afforded an opportunity for an evidentiary hearing?

Holding :

The procedures in place provide the claimant with effective process for asserting his claim, in addition to an evidentiary hearing, and access to judicial review, prior to termination. The claimant's interests are protected here as disability is not based on income and claimant has potential for additional sources of income. The value of an evidentiary hearing here is of less value than in Goldberg as the decision is based on an easily documented condition. The additional costs and administrative burden would be substantial in this case as those undeserving of benefits take away from those who are truly deserving.

Dissent :

Discontinuing disability benefits caused Eldridge significant hardship and it is not right to assume that other forms of public assistance could be attained.

Rule :

An evidentiary hearing is not required prior to the termination of Social Security disability benefit payments.

Class Notes :

Due Process Clause: 5th or 14th amendment. 2 part question:

1-Does due process clause apply? Concern life, liberty or property?

2-If it applies, what process is due? How do you protect the right?


Step 4 : To create more outlines, simply go back to the Display/Order tab and select the fields and headings you would like. This way you can easily create :



CASE LISTS




*To keep a running checklist of what's been covered in class as you go thru the course





RULE OUTLINES




*Crucial for success on issue-spotting exams



FACT LISTS


*Also great for matching up case facts with novel facts on issue-spotting exams

HEADINGS LISTS

*Also great for making a fact-pattern checklist for issue-spotting exams

More screenshots.....


OR ANY KIND OF OUTLINE YOU LIKE, ALL EFFORTLESSLY AND EXACTLY THE WAY

YOU

WANT IT WITH JUST A FEW CLICKS OF YOUR MOUSE !

*BUY NOW ! (Click on the link) INSTANTLY DOWNLOAD AT THIS SPECIAL EARLY SEMESTER SALE PRICE (REGULAR 55$) OF

20

$
Much Cheaper than 65$ for Outliner 4.0 at Storelaw.com (closest competitor)
*sorry MAC or Windows Vista users, currently only supports

Windows XP IBM's

(Vista version to come in a few weeks, send an e-mail to support@lawschoolaids.com to reserve a copy) !

*Also checkout our 1st Year Law School Survival Guide, great advice to get top grades with little effort, just 5$